​In the midst of your major vacation planning, don't forget to plan satisfying summer getaways. Whether it's a day excursion, an overnight stay, or a long weekend, mini-trips can offer a refreshing respite and a chance to reconnect with the ones you hold dear. No matter what length of time you choose, combine the six elements below and you'll reap the physical, mental, and emotional benefits of a short-term sojourn.
1.  Begin With a Dash of Nature
Add the beauty and tranquility of nature to your summer stopover and you'll immediately multiply the rejuvenation quotient. Take a quiet walk, soak in the sounds of a cascading waterfall, or toast the close of a relaxing day with a sunset cocktail.
ALV Travel Tip: Explore our hiking trails and pick your own pace: meditate on the sights, sounds, feelings, and smells of nature, or get a move on to get your blood flowing.
2.  Blend in Physical Activities
Get some exercise and release those endorphins with group activities that will put your body in motion while tickling your funny bone. Swing a golf club, toss a cornhole beanbag, or blow on a set of giant yard dice and let 'em roll!
ALV Travel Tip: Adults and children 10 years and up, don't forget your tennis or other close-toed shoes to participate in our Axe Throwing + Archery adventures!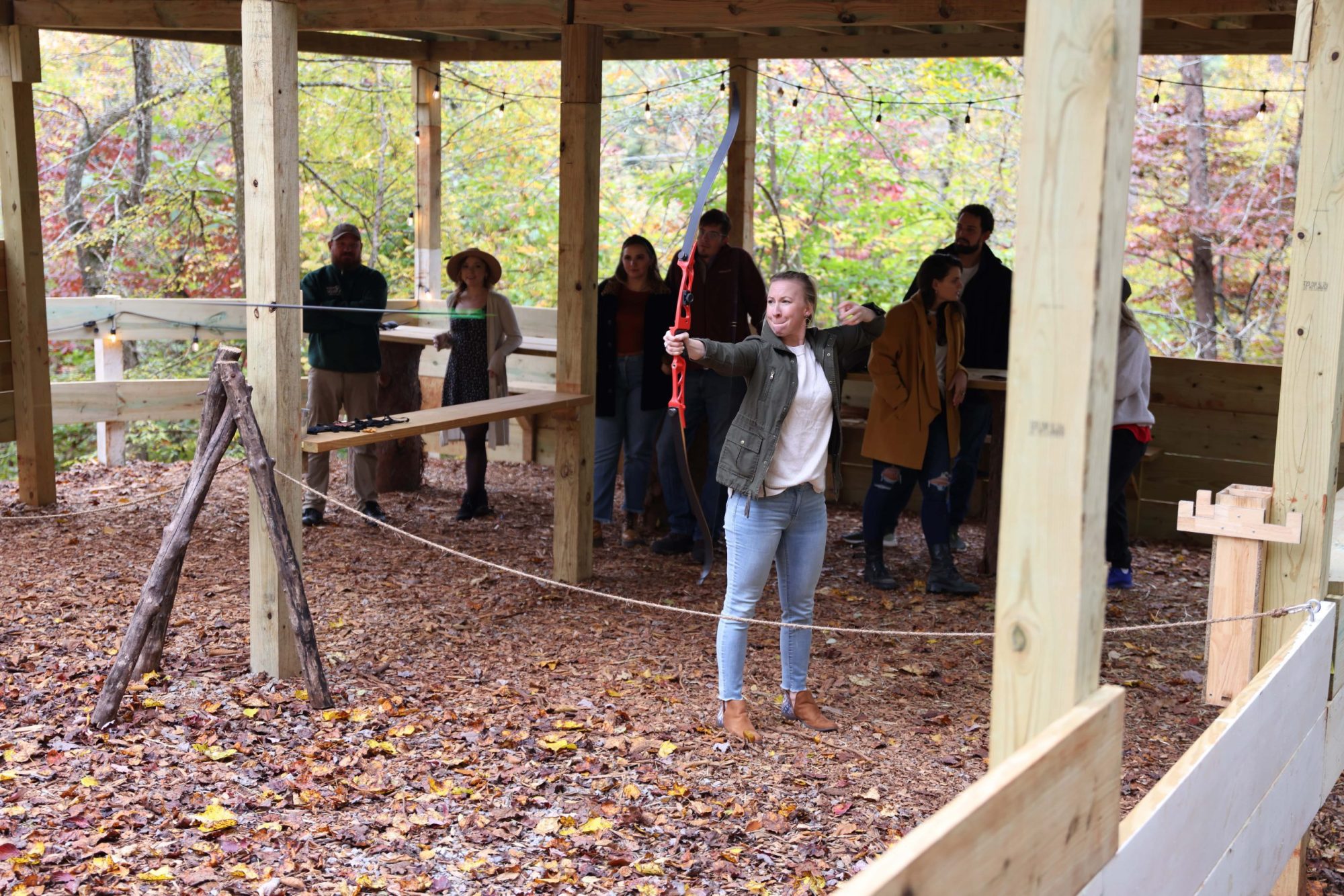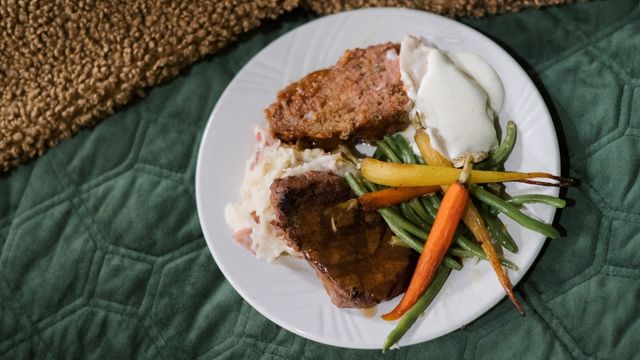 3.  Add Mouthwatering Food
The mini-trip is the perfect time to splurge! Leave the fast food behind and indulge in a minimum of one unforgettable meal. Don't skip the drinks or dessert… your perfect power getaway is brief enough to have you back to the gym in no time.
ALV Travel Tip: Make reservations for chef-created cuisine at Ancient Lore Village at least 48 hours in advance; we guarantee it will be a decadent experience!
4.  Throw in a Pinch of Education
Check the box for "learning something new every day" during your mini-trip. Uncover history, people, places, and things by visiting attractions, museums, and historic areas such as those in Sevierville or Pigeon Forge, both only a 30-55-minute drive from Ancient Lore Village.
ALV Travel Tip: Learning and wonder await when you listen to Ancient Lore Village self-guided audio tours, all easily accessible through our app.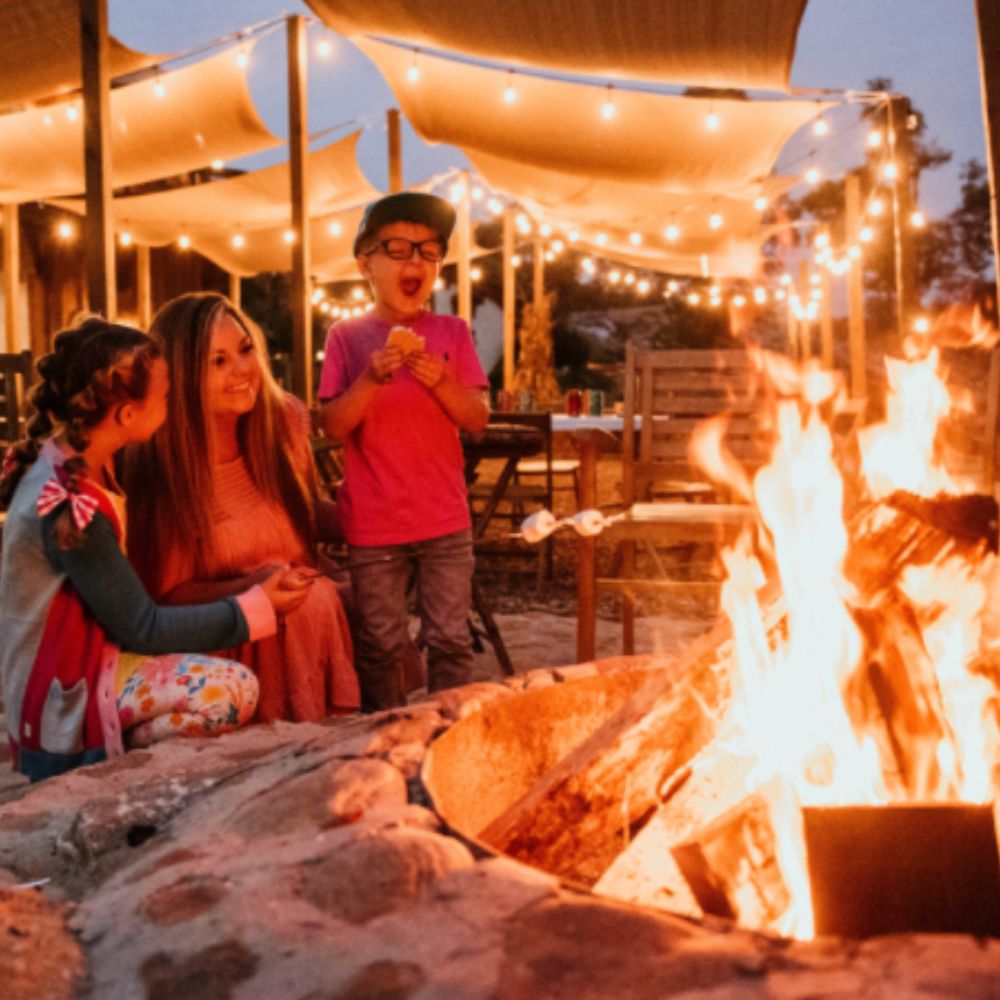 5.  Stir Together with Quality Time
Make reconnecting a priority by spending time with the ones you love with no outlets or charging cords required. Bond over a board game, pull out the playing cards, or share s'mores and stories around a bonfire underneath a starry sky.
ALV Travel Tip: Ancient Lore Village is the ideal place to make memories during your family reunion, wedding, or corporate retreat!
6.  Season Generously with Restful Lodging
After an adventurous day, a cozy room with clean sheets and a hot shower combine to make just the right recipe for comfort. Giggle all night, sleep late in the morning, regroup, and recharge for whatever life holds next.
ALV Travel Tip: Book early to reserve one of our six delightful dwellings—they fill up fast!
When you're ready for a renewing retreat, try our special ALV packages such as the Smoky Mountain Getaway (custom-made for a stay of two nights or more), The Ultimate Overnight (for a quick reboot), Stay and Play (family-friendly fun), or Love + Romance (anniversary celebration, anyone?). Or, just spend a special day anytime with one of our do-it-all Village Discovery Passes. At Ancient Lore Village, we have everything you need to whip up the perfect sweet escape!